.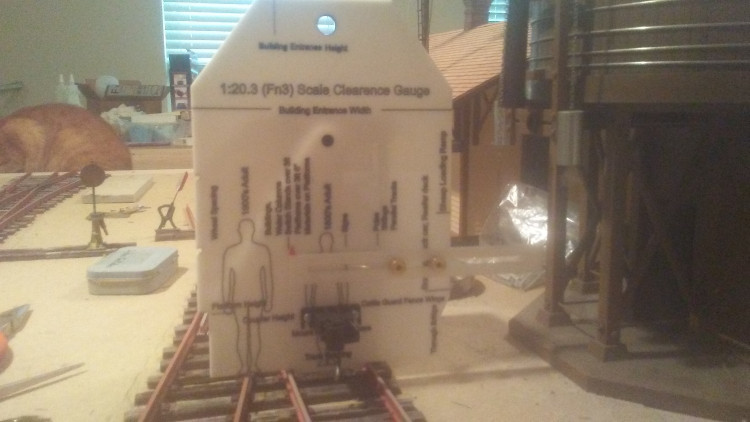 Fn3 Clearance Gauge is used to set the spacing from the center line of the track for buildings, signs, poles and posts and switch stands among other things.

Gauge is laser cut from white 1/8" thick plexiglas with black lettering.
​
Slide is held in place with two brass knurled nuts and has a red tip which lines up with vertical line below the referenced items that you want the correct clearance ​​​for.

Back of gauge has a tunnel and bridge clearance arm that swings from one side to the other for checking the clearances for tunnel portals and through truss bridges and also has a Brass Knurled Nut to lock it in place.

Gauge has mounting holes for a Kadee coupler that can be used to set the coupler height ​​of your rolling stock. Kadee Coupler is not included with the clearance gauge. Correct coupler is referenced on the gauge.

Price for the Clearance gauge is $25.00 plus $15.00 shipping and handling​​
Payable through Paypal : Use email address danshouston@gmail.com​

Measurements on the gauge are taken from the D&RGW standard narrow gauge specs shown below.

See photos below on how the gauge is used. The bottom edge of the gauge has a tab that fits between the rails which holds the gauge in place and then loosen the knurled nuts and then slide the arm so the red pointer lines up with what you want to set the clearance for.​​​​

See Photos below for examples.​​

Gauge also includes reference sizes for an adult male from the 1800's and 1900's for selecting correct size figures for the time period you are modeling. this is just for reference as humans come in all sizes and shapes.​​